The age of smart homes is here, and with it comes a new era of home security and convenience. No longer are garage doors simply a barrier between your car and the outside world; they are now an integral part of a comprehensive home security system, offering features that make our lives easier and more secure.
When it comes to home security and convenience, smart technology has revolutionized the way we live our lives. And one area that has seen tremendous advancements in recent years is garage doors. No longer just a simple entryway for our cars, smart garage doors have emerged as a game-changing solution for homeowners looking to enhance the security and convenience of their homes.
In this blog post, we'll delve into the world of smart garage doors, exploring their innovative features, benefits, and the reasons why they are the future of home security and convenience.
What are Smart Garage Doors?
A smart garage door is an automated, internet-connected door system designed to be used in residential and commercial garages. It is meant to provide a more secure and convenient way of entering and exiting the garage, as well as allow homeowners to have better control over who enters the area. It can be controlled using voice commands or by an app on a smartphone, and can include features like automatic door openers based on specific criteria such as vehicle types or motion sensing at the entryway.
Smart Garage Doors: Security Meets Innovation
In the past, garage doors were easily compromised by burglars using simple tactics like code grabbing or forced entry. Smart garage doors, however, are designed with advanced access control systems that ensure your home is protected from such vulnerabilities. Many smart garage doors now include features like rolling-code technology and encryption, making it nearly impossible for intruders to intercept and duplicate remote control signals.
Moreover, with the integration of biometric security measures such as fingerprint scanners, facial recognition, and voice control, unauthorized access to your garage becomes a thing of the past. This level of security ensures that only you and your family members can access your garage, providing you with peace of mind that your home is safe and secure.
Effortless Connectivity for Enhanced Convenience
Smart garage doors are designed to easily integrate with your existing smart home ecosystem. By connecting your garage door to your home's Wi-Fi network, you can control it remotely using your smartphone, tablet, or computer. This allows you to monitor and control your garage door from anywhere, whether you're at work, on vacation, or just lying in bed.
Moreover, smart garage doors can be synced with virtual assistants like Amazon's Alexa, Google Assistant, or Apple's Siri, enabling you to control your garage door using simple voice commands. This integration extends to other smart home devices as well, such as security cameras, motion sensors, and smart lighting. With these devices working in tandem, you can create a truly cohesive and efficient home security system.
Cutting-Edge Features for a Modern Lifestyle
Automation and Energy Efficiency at Your Fingertips
In addition to enhanced security and convenience, smart garage doors offer a range of innovative features that cater to the modern homeowner's needs. For example, many smart garage doors are equipped with built-in scheduling systems that allow you to set automatic opening and closing times, ensuring that your garage door is always closed when it needs to be, even if you forget.
Furthermore, smart garage doors often come with energy-efficient features such as insulation and LED lighting, helping you save on energy costs and reduce your environmental footprint. With the ability to monitor your garage door's energy consumption through dedicated smartphone apps, you can make informed decisions about when and how to use your garage door, ultimately leading to lower utility bills and a greener home.
Geofencing and Vehicle Recognition for the Ultimate Convenience
Personalized Experience Tailored to Your Needs
Another innovative feature offered by smart garage doors is geofencing technology. This allows your garage door to automatically open or close based on your smartphone's GPS location. When you approach your home, your garage door will recognize your presence and open automatically, making your arrival seamless and hassle-free. Similarly, when you leave, the garage door will close itself, ensuring that you never accidentally leave it open.
Some smart garage doors also come with vehicle recognition capabilities, which allow them to detect specific vehicles and grant access accordingly. This can be particularly useful for multi-car households, as it ensures that each family member's vehicle is granted access without needing to carry around multiple remote controls.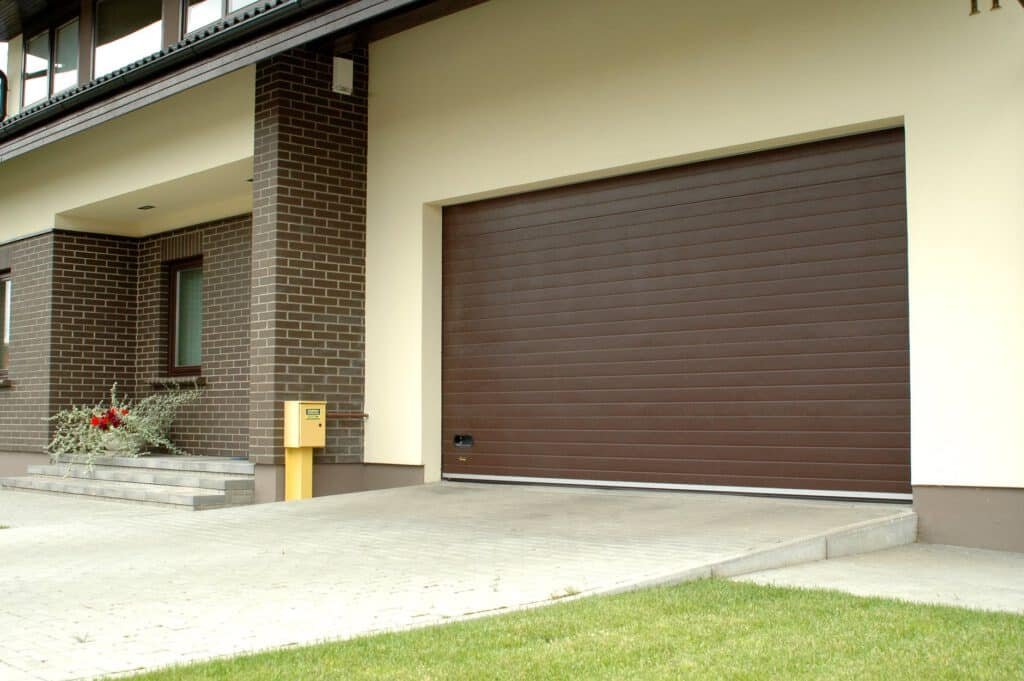 Features and Benefits of Smart Garage Doors
Smart garage doors are garage doors that incorporate advanced technology, enabling them to be connected to your home automation system or controlled remotely via a smartphone or other connected devices. These garage doors are designed to provide enhanced security, convenience, and energy efficiency.
Some features of smart garage doors include:
Remote control: You can open or close the garage door using a smartphone app or voice commands through a compatible smart home assistant like Amazon Alexa, Google Assistant, or Apple Siri.
Security: Smart garage doors typically include built-in cameras and motion sensors that can notify you if there's any unauthorized access or activity. Some systems also offer integration with smart locks, further enhancing security.
Notifications and alerts: Many smart garage door systems can send notifications to your smartphone when the door is opened or closed, allowing you to monitor your garage door's status even when you're away from home.
Scheduling: You can set schedules for opening and closing the garage door, which can be particularly useful for households with regular routines.
Energy efficiency: Some smart garage doors have insulated panels that can help maintain a consistent temperature in your garage, reducing energy consumption and lowering utility costs.
Integration with other smart devices: Many smart garage doors can be integrated with other smart home systems, allowing you to create routines and automate various tasks.
Popular smart garage door opener brands include Chamberlain, LiftMaster, and Genie, among others. To retrofit an existing garage door with smart capabilities, you can install a smart garage door opener or a smart garage door controller, which typically connects to your Wi-Fi network and pairs with your smartphone or smart home system.
Here are some additional features and benefits of smart garage doors:
Safety features: Smart garage doors may include safety sensors that prevent the door from closing if there is an obstruction in its path. They can also have auto-reverse functionality, which causes the door to open if it encounters an obstacle while closing.
Battery backup: Some smart garage door openers include a battery backup system, ensuring that the door remains operational even during power outages.
Vehicle compatibility: Some smart garage door systems are compatible with certain vehicle models, allowing you to control the door directly from your car's infotainment system.
Geo-fencing: Some smart garage door systems use geo-fencing technology to automatically open or close the door based on your smartphone's location. For example, the door might open when you're approaching your home and close after you've left a certain distance away.
Maintenance reminders: Some smart garage door systems can monitor usage patterns and provide maintenance reminders to help you keep the door in optimal condition.
Customizable access: With a smart garage door system, you can grant temporary or permanent access to friends, family, or service providers without having to share a physical key or code.
When choosing a smart garage door system, consider factors such as compatibility with your existing garage door, integration with your smart home system, desired features, and price. Additionally, make sure to read reviews and research the product's security features, as security vulnerabilities have been reported in some smart garage door systems in the past.
Conclusion
Smart garage doors are revolutionizing the way we think about home security and convenience. By combining advanced security features, seamless integration with smart home ecosystems, cutting-edge technology, and personalized experiences, these garage doors offer homeowners an unparalleled level of control and peace of mind. As the future of home security and convenience continues to unfold, smart garage doors are set to become an indispensable part of modern living. Embrace the technological revolution and upgrade your garage door today to experience the benefits firsthand.
At GC Garage, we are committed to providing top-quality garage door repair services, broken spring replacement, and garage door installation services to the Chicagoland area. We understand that your garage door is a critical component of your home's security, and we take that responsibility seriously.
In addition to our standard garage door services, we also offer garage door opener installation and a range of garage door parts, including garage door remote controls and wireless keypads. Our team of experienced professionals is equipped to handle any garage door-related issue, no matter how big or small.
If you're located in the metro-suburban areas of Illinois and are in need of garage door services, we encourage you to visit our website to learn more about our products and services. We take pride in being the best local garage door company in the area, and we're confident that we can meet your needs and exceed your expectations.